<![if !vml]>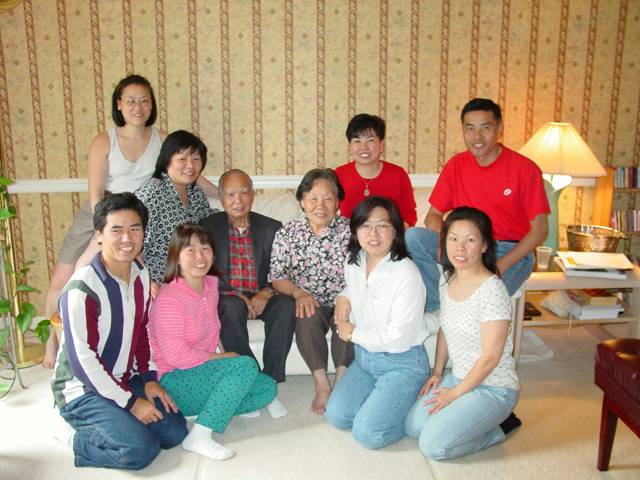 <![endif]>
Tung Wing Chung
1927 – 2005
Shown above with his family May 2003
We are here today to pay our respects to Tung Wing Chung, a loving and faithful husband, father, grandfather, relative or friend. His friends called him "Jung Wing". He was a man of poor and humble beginnings but ended with his life fulfilled. The experiences through our life's journey shape the person we are, the knowledge we gain and the wisdom we pass onto others. The journey we take is a result of the choices we make at the crossroad of our lives. Jung Wing had many experiences and decisions that shaped him into a person we admire, as a husband, a father, a grandfather, a relative and a friend.
Jung Wing began his journey in a rural farming village of southern China, living most of his early years with his mother and sister, while his father was overseas in Philadelphia. They were not wealthy but had the bounty of the land and the love of each other. Jung Wing could have made the easy choice and continued the rest of his life in China. However,..
At the age of 17 and with little education, he chose a new path, moving to Hong Kong in order to learn a profession as a tailor, to be independent, to be able to provide for himself and to provide for his future family. The years in Hong Kong were very difficult times for Jung Wing and his wife, Wo Hop, whom he wed at age 20. Despite the struggles he had in Hong Kong, his decision, in retrospect, was significant because it allowed his family to live a life free from communist oppression. There were joyous and prosperous times for Jung Wing, too. He and Wo Hop had 6 daughters and 1 son, as well as, building life-long bonds with friends and relatives that he had supported or supported him.
At the age of 39, 1966 was another crossroad in Jung Wing's life. With family in-tow and little money, he headed to the United States, Philadelphia, land where "the roads are paved of gold". For him, this was the land of opportunity, not for himself, but for his children to have an education and a better life than he has had. During his first years in Philadelphia, Jung Wing experienced more joy, seeing the birth of his youngest child and second son, as well as, spending a brief time with his father before his death. During his 39 years in the Philadelphia, Jung Wing had celebrated the graduation of all his children from high school or college, their weddings and the birth of each grandchild. He fulfilled the final leg of his journey when he retired at the young age of 62 to enjoy and spend time with his family which he had little time to do previously.
Jung Wing truly valued his friends, relatives and the community of the Chinese Christian Church. He was not an outspoken man but always remembered those who have provided friendship, kindness and support, always speaking of them with high regard. Though not wealthy, he was always generous, helping those in need or repaying those who have helped him in the past many folds over.
In the Chinese culture, "prosperity", "good fortune" and "long life" are the three goals in life to achieve. For Jung Wing, he achieved all these and more.
Prosperity: Jung Wing raised a family of 8 children, seeing them grow to adulthood and each leading successful lives. His prosperity has further increased with the addition of 14 grandchildren and 4 great grandchildren.
Good Fortune: At the crossroads of life, Jung Wing chose the path that ultimately led to a better life for him and his family. He shared his good fortune, helping others.
Long Life: Jung Wing lived to the age of 78, recently celebrating his birthday last month. He was very happy and content with his life, wife of 58 years, the family he raised and his contributions to the community.
We should not grieve the passing of Tung Wing Chung but celebrate his life and achievements. Wo Hop and the entire Chung family gratefully extend their thanks to everyone that have come to pay there respect and show support for the family. They also thank God for all his blessings and good fortunes to the Chung family.
Written by his son:  Kar Chun Chung
Read by his son-in-law: Raymond Ling
<![if !vml]>

<![endif]>
<![if !vml]>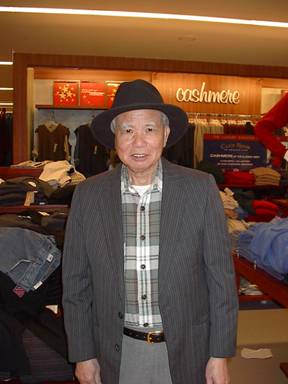 <![endif]> <![if !vml]>
<![endif]>
We asked members of Jung Wing's family, children and grandchildren, to share with us their memory or experiences…..They were read by 3 representatives – Katie Chung, Bill Ling and Daniel Louie.
Always walking to Imperial Inn with

yeh-yeh

. Despite the language barrier, it was still important.
Always coming down to celebrate my birthday with him, he always made it special.

 

Just sitting down next to him the many times we came down to Pennsylvania and talking.

 

He was caring, always happy to be around his grandchildren. I've never seen him mad. Quiet, loves his family.

 

Trips to McDonalds on Wednesday.

Last time I came down, my mom ask me and my cousin to help him up and he kept pulling us down with him, making us laugh.
I remember the time when I told

yeh-yeh

something in Chinese.

 

He smiled and I thought that he was proud of me, and he made me fee great.
Him sitting in his old rocking chair reading his newspaper or watching his Chinese soap operas.

 

My favorite memory of

yeh-yeh

was when he, my dad and my ma-ma told me about the saying, "bay sum gay

dook

shee

", meaning something like,

"

putting all of your heart into your work". Ever since they told me that, it gave me courage for everything I did in school. That is one thing I'll never forget. And, even though he isn't here, I'll always remember him in my heart.
About 2 years ago, everyone came to Virginia to celebrate Thanksgiving. Auntie Cindy, Uncle Peter, gung-gung, paw-paw and I went to the mall for a few hours. In waiting for Uncle Peter to get the car, I asked gung-gung to try on a hat so I could take a picture of him. He reluctantly said, "

ok

". Now I can always associate him with this picture, showing him feeling silly.

 

I learned the only Chinese word I know "bow-bow" from my father-in-law and I taught it to my son.
A memory I have of my grandfather made me think of a time once when

me

and some of my cousins were playing upstairs at night. It was kind of late and we probably should have been sleeping. My mom came in and told us to be quiet and we did for a little bit, but then we went right back to what we were doing. Then when our grandfather decided that he wanted to sleep and wanted us to be quiet, he just came in and told us to be "mm-ho-

cho

". We all did and just went right to sleep. I didn't really think about it, but all of my cousins and I had more respect for him than we would have had for any other person. He was an important man, who I think, deserved as much respect as any other person in the world. We loved him and we'll miss him.

 

I love how he would set up dinners so that everyone could spend time with each other. I enjoyed this because everyone lives in all different places and stuff and we do not get to see each other as much as we would like to. Another thing I like about gung-gung was that he always wanted the kids to be happy. At dinner, he made sure that we got the dishes we liked. And after winning a game of mahjong, he would give us some of, his winnings to go spend at Tuck

Hing

.
My favorite memory was when he told me about how our family came to the United States as a result of political asylum, which I thought was extremely inspirational because of the hardships that he had to endure.

 

I gained so much more respect for him, my aunties, uncles and my mother at that moment.
Since I started going back to church within the last year, I have tried my best to visit Gung-Gung and Paw-Paw between work and church group on Friday nights.

 

While work has gotten in the way recently, I felt good spending time with them and developing my Cantonese.

 

Even though he didn't say much, this past year was pretty great knowing that I could hold a decent conversation with him and that he could at least understand what I was saying.

 

It has meant a lot to be able to actually communicate with him after 22 years.
When I was walking with my great-

grandpop

, I kind of went ahead of him.

 

I saw my grand mom and went ahead of him.

 

I crossed the street and hugged my grand mom.

 

I ran around the corner and I didn't see him.

 

I walked back and I saw him going with my grand mom into the restaurant.

 

I ran up to join them.